want a piece of land where YOU can pitch a TINY HOME?
It's FREE! Watch the video for the list of 10 towns offering free land to start a new life. Best of all, no mortgage or home loan whatever you want to call it. Some places offer free land to businesses that will bring jobs to their community. So all you companies that work on the internet like call centers, factoring companies, Data Rooms or other websites this video is for you.
Free land will be perfect for the grand prize winner or the give-away recipient of the Hearts of Gold Raffle to start their new life in tiny home!
We're on a mission to help women and all contest proceeds will be used to commission two builds: one for the grand prize winner and one for an unhoused (homeless) woman.
Each raffle ticket is one chance to win the grand prize. Plus, give one prize away to an unhoused (homeless) woman — How Divine! The raffle tickets cost $10 to win your choice between a mobile tiny home in the form of a shuttle bus conversion or a custom container tiny home… Click here for details or to buy a raffle ticket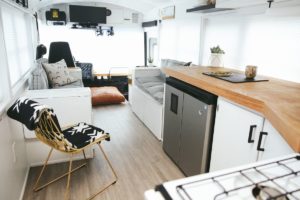 TINY SHUTTLE BUS HOME
A shuttle bus converted into a beautiful living space on wheels!
Click here for details or to buy a raffle ticket
TINY CONTAINER HOME
A standard container is 20'x8'x8.5′. It comes with insulation, electricity, plumbing and HVAC. The builder can also provide containers with rooftop decks and staircases. Each home is delivered within 25 days of purchase. They can use your designs you provide. We can also make the homes "smart." They are anti-seismic, windproof, heat and sound insulated and lasts for 50 years or more.